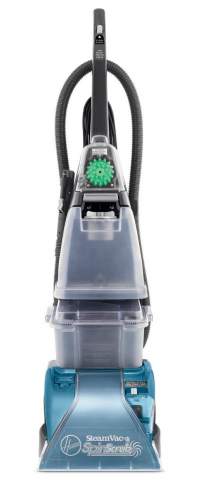 The Hoover SteamVac Carpet Washer with Clean Surge (F5914900) is not Hoover's top steam cleaner.  But  it is considered to be a very budget friendly carpet cleaner. It is lightweight cleaner that will do a great job of cleaning stains and getting your carpet clean.  It may be small and lightweight in size, but it is a powerful little dynamo with good suction for cleaning your carpet and getting rid of the stains that make carpets look old and worn.
The Hoover SteamVac comes with the following features:
Multi directional brushes
3 speed brushroll controls
Tool mode for cleaning hard flooring
Removable brushes
Clean surge control
Heated drying
An 8 foot blow molded hose
Dual tanks to hold cleaning solution and dirty water
A powerful 12 amp motor
An attachment for cleaning stairs and upholstery
A 20 ft cord
A nozzle width of 11.25 inches
>>>  See Price and Reviews of Hoover SteamVac Carpet Cleaner on Amazon.com! <<<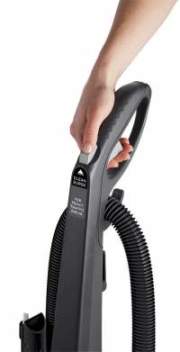 Pros
The Hoover SteamVac has a weight of just 20 pounds, and this is one of the reasons that customers like it.  It is lightweight and easy to maneuver while cleaning, which is something that many cleaners of this size cannot say.  Not only is it easy to carry around, but it is also easy to use in smaller spaces because of its extended attachments that can access hard to reach spaces.
It may be a small budget friendly machine, but it is a powerful choice for users who need to get deep down dirt out of carpets with ease.  The scrubbing brushes work effortlessly to reach deep into the fibers of your carpet and pull out dirt. For carpets that are especially dirty, just push the clean surge button to release even more detergent for a deep clean. Overall, the Hoover SteamVac Carpet Washer with Clean Surge is a wonderful option for the person who needs an economical option for deep cleaning.
Cons
The Hoover SteamVac has a lot of great features, but there are also a few minor customer complaints. The SteamVac has small dual tanks that are separated for cleaning solution and dirty water, which means that you have to carry a lot around while cleaning. Also, many customers have to dump out the water a couple of times during the cleaning process. However, many people still find that it is easy to maneuver overall.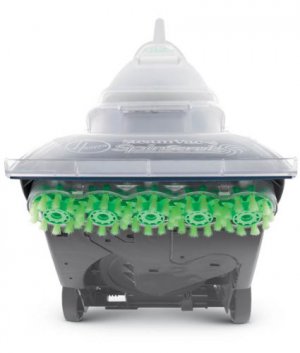 How Does it Compare to Other Budget Friendly Options in This Class?
The Hoover SteamVac is an economical choice for anyone who needs to clean new or old stains.  However, how does it compare to the Hoover Power Scrub Deluxe Carpet Washer (FH50150)? The Power Scrub Deluxe is just as budget friendly as the SteamVac.  It has many of the same features as the SteamVac, such as powerful brushes, attachments to clean hard to reach places, a 20 ft cord and an 8 ft hose.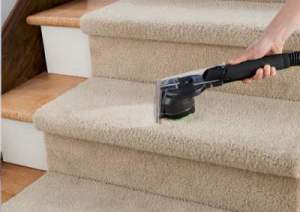 However, one thing that the Power Scrub Deluxe does not have is the Clean Surge that lets you spray more detergent on tough stains. However the Power Scrub Deluxe does have an option for automatic detergent mixing. Also, Power Scrub Deluxe users aren't complaining about having to change the water as much.
It is good to know that you can get clean looking carpets without having to dish out money for rentals or expensive carpet cleaners.  The Hoover SteamVac Carpet Washer with Clean Surge is a great way to clean if you are on a budget.
Design
Ease of Use
Efficiency
Accessories
Help & Support
Our Overall Rating

Average
>>> See Reviews, Ratings and Price on Amazon! <<<
Want to look at another carpet cleaner?
Do you own the Hoover SteamVac? Please give us your thoughts about it in the comments! It will help others :).