A handsfree carpet cleaner designed especially for the needs of pet owners – it sounds almost too good to be true, right? Its name is BISSELL Spotbot Pet Handsfree Spot and Stain Cleaner with Deep Reach Technology, 33N8A. And here is what it has to offer: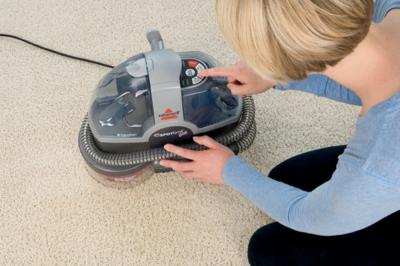 Main Features
Bissell 33N8A comes with an automatic cleaning cycle that you can choose and walk away. The machine will do all of the cleaning instead of you. The Bissell Deep Clean Technology is especially suitable for pet owners and it can also be used for the extraction of old or stubborn stains.
Pet owners know how difficult it could be to get unpleasant smells out of fabrics, but the Bissell technology simplifies this task by removing bad odor-causing bacteria from the carpet.
Several other features worth mentioning include spray and suction technology to leave carpets nearly dry, spiral brushing technology and the possibility for manual cleaning.
>>> See Price and Reviews on Amazon! <<<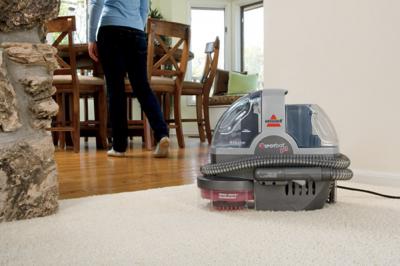 Pros and Cons
The main advantages of this carpet cleaner include:
Powerful cleaning technology that can get nearly every stain out of the carpet
Designed predominantly for spot treatments and smaller stains
The automatic smart system decides how much detergent should be used for spot cleaning
There's a manual cleaning possibility as well
Lightweight and compact, the cleaner is very easy to store
A couple of shortcomings that have to be mentioned about the cleaner include the following:
If you want to clean a larger surface, you'll need to use the manual cleaning option
When using automatic cleaning sometimes circular spots could be left because the cleaner missed them

How does It Compare to Other Portable Cleaners?
Bissell has developed several compact and easy to use spot carpet cleaners. Apart from opting for the Bissell 33N8A, you can choose the Bissell 97491 SpotClean Anywhere Portable Carpet Cleaner or the BISSELL SpotClean Professional Portable Carpet Cleaner 3624. How do these compare?
When it comes to dimensions, Bissell 33N8A measures 12.5 inches x 9 inches x 17 inches. Its weight is 14.1 pounds. The 97491 measures 14.5 by 6.5 by 12 inches and its weight is 9.2 pounds. The 3624 spot cleaner is the in-between option that measures 14 by 10 by 14 inches and weighs 13 pounds.
Each of the other two portable cleaners has a couple of unique features. The 97491 comes with HeatWave technology that maintains constant water temperature, removable water tank, stain trapper tool for extra-tough stains and a three inch tough stain tool for stair cleaning.
The unique characteristics of 3624 include a flex hose for the cleaning of hard-to-reach areas, stair tools, tough stain tools, an extra-long cord and superior suction for the removal of tough stains.
The Bissell Spotbot has less tools included, but it has a 3 inch Tough Stain Brush. It also has a one year warranty as opposed to a 2 year warranty for the two other carpet cleaners. The big plus with the Spotbot is the fact that it is automatic, set it and forget it.
And, if you're a pet owner, Bissell 33N8A Spotbot Pet Handsfree Spot and Stain Cleaner is going to be the best option for you because of its specialized pet cleaning technology.
Design
Ease of Use
Efficiency
Accessories
Help & Support
Our Overall Rating

Average
>>> See Price and Reviews of BISSELL Spotbot Pet Handsfree Spot and Stain Cleaner, 33N8A on Amazon.com! <<<
Want to look at another carpet cleaner?
Do you own the BISSELL Spotbot Pet Handsfree Spot and Stain Cleaner with Deep Reach Technology, 33N8A? Please give us your thoughts about it in the comments! It will help others :).