The Bissell DeepClean Deluxe Pet 36Z9 is one of the more powerful carpet cleaners for pets. It has a good reputation from its users, and it is made by a very well known brand. It is specialized on removing pet stains, pet odour and collect fur from the rug, leaving you with clean, fresh and sanitized carpets.
Design
Inside of the cleaner, there are 12 rows of bristles on dual rotating brushes that help to thoroughly scrub and clean the carpets. In combination with the carpet cleaner fluid and hot water, it can blast through tough pet stains.
>>> See Price and Reviews of BISSELL DeepClean Deluxe Pet, 36Z9 on Amazon! <<<
There is a built-in spray nozzle that allows the user to spray concentrated cleaning solution on the toughest stains.
Just push a button and let the mixture sit for a few minutes. When it is done, you can go over the spot with fresh water and then back again.
There is a separate tank for clean water, dirty water and additional solution, so that there is never any cross contamination during the cleaning process.
Dirt Removal and Heating
While cleaning your carpet, you will find that heating is going to be important. This helps to better disinfect the carpets and to break down dirt more effectively. The DeepClean Deluxe has an internal heating system that allows the water to be heated before it comes in contact with the bristles and carpeting. It then saturates the carpet to loosen and lift off dirt, while the brushes help to keep the floor agitated while the machine's suction sucks up the dirt and water. This helps to remove more of the mess off the carpet.
Suction Power
One of the nice features of this Bissell is the suction that surrounds the edge of the system. This all around suction allows you to ensure that there is no left behind puddles of water than can cause your carpet to stain. More importantly, the enhanced suction area will allow you to make fewer swipes on the carpet to fully get it clean. That means less time cleaning the carpet and more time actually enjoying it.
Want to look at another carpet cleaner?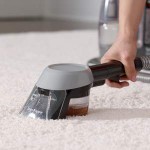 Adjustable Settings for All Surfaces
Adjustable settings make the Bissell a great choice for the pet owner. Instead of having one option for cleaning, you can choose a light clean, normal clean or in areas where pets have made a considerable mess, you can do a heavy cleaning.
You can also choose the type of surface you are going to be cleaning. You can set them to side boards, walls or select the accessory feature that will allow you to use some side brushes and other items that will help to make cleaning the carpet a little easier.
>>> See Ratings, Reviews and Price on Amazon <<<
Handles Pet Hair Effectively
As you are cleaning the carpets, you will notice that quite a lot of hair comes up. Rather than having the hair end up in the water and clogging your drains, there is a hair basket that will allow you to trap the hair and easily remove it as needed. More importantly, you won't end up with clogged hoses and brushes from the hair.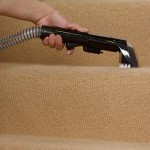 Avoid Cross Contamination
Knowing that your water is going to be murky and contaminated with things like pet urine, the Bissell does offer the ability to trap stains and the contaminated water so it doesn't travel through the system. At the base of the trapper, there is a button that you can then press when you are ready to dump the dirty water. This allows you to avoid disease to spread through the machine. After all, the goal is to end up with clean carpets when you are sharing your home with an animal.
Light Design
The design of the machine is perfect for those who need a powerful pet carpet cleaner, but don't want a large bulky machine. Instead, this cleaner is less than 25 pounds in weight and it is flexible enough that cleaning around items is easier. It also offers a 22 foot cord that will allow it to work in most rooms without the need to routinely change the outlets.
Accessory Tools
The Bissell DeepClean Deluxe Pet offers a powered hand tool. This will help to make furniture, curtains and stairs easier to clean. Of course, when you are cleaning any surface with a cleaning solution, it will be important that you test a small section of carpet to avoid any possible problems.
What Sets It Apart From Other Pet Carpet Cleaners?
Another very popular carpet cleaner for pet owners is the Bissell DeepClean Premium Pet, a cheaper version, how do they compare?
The main difference is in their functions. The Bissell DeepClean Deluxe Pet has the stain trapper tools and the Cleanshot trigger technology that the Premium Pet lacks. This means that the Deluxe version is better at handling tougher pet stains.
The Premier is a good budget cleaner, but not as powerful as the Deluxe.
Another option is the Bissell Big Green Deep Cleaning Machine. It is a pricier and heavier machine, but it is very p0werful and has a larger tank than the DeepClean Deluxe Pet.
Here you can get a more detailed comparison of the best pet carpet cleaning machines of 2023.
Highly Recommended
All in all, this is a great carpet cleaner for the pet owner because of its pet focused features, such as a hair basket, odour cleansing formula, sanitation and pet stain remover.
It comes with a three year warranty and service repair shops are located across the country. If there are ever any problems, you can contact the customer service department and they will schedule a time that they can work with you on servicing the system.
Because of its advanced deep cleaning features for pet owners like a pet hair basket, contaminated water compartment and more I think this is the best pet carpet shampooer available in 2020.
It is a powerful tool that will go beyond simply removing dirt, thanks to the built in heater and actually sanitize your carpets so that you can feel comfortable with your loved ones spending time on the carpets.
Design
Ease of Use
Efficiency
Accessories
Help & Support
Our Overall Rating

Average
Review Summary: This is a great choice for pet owners who want value for money combined with very effective stain cleaning, odour removing and sanitizing. What you will get is a multipurpose cleaner that cleans carpets very effectively, but also cleans upholstery, stairs and curtains.
>>> See Ratings, Reviews and Prices on Amazon <<<


If you want more options go back to our homepage to see the best carpet cleaners 2023.
Have you used BISSELL DeepClean Deluxe Pet, 36Z9? Please give us your thoughts about it in the comments! It will help others :).