If you have carpets in your home or office, you need to  keep them clean as dirt easily builds up. This might have an influence on indoor air quality and the amount of pollutants in your home/office.
You basically have three choices.
Use a carpet cleaning service
Use a carpet cleaner
Clean manually 
For general stain removal and cleaning, see our ultimate stain guide to find the right solution for your specific stain.
For cleaning and maintenance I strongly recommend using a carpet cleaner, or a carpet cleaning service. It really is the best way to get a carpet really clean. A carpet cleaner offers strong suction for extraction of dirt embedded inside the layers. They are also a great way of removing hard and tough stains.
A carpet cleaning service can do all this for you, at a price. If the carpet is of a type that is hard to clean or if you feel uncomfortable doing it yourself using a cleaning service is a good choice. If you plan on cleaning it regularly consider buying.
Vacuuming is also a good idea before deep cleaning to pick up the dirt, dust, hair and other dry substances. By vacuuming and deep cleaning the carpets, the dirt and pollutants are eliminated.
Manual cleaning takes a lot of time, and carpet shampooers are not very expensive any more. Try these tips for manual cleaning, but keep in mind that they are not as effective as proper carpet cleaning.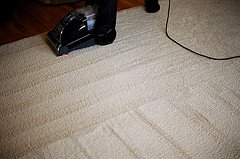 How to clean a carpet with a carpet cleaner:
Carpet cleaners sometimes function a bit differently, but this is a general guide of how it usually goes.
Most important of all, read the instructions well!
1. First remove all breakables and furniture from the room for easy reach of dirt and dust in hard to reach areas.
2. Carefully and thoroughly read the instructions to your unit and cleaning solution usage instructions found in the manual accompanying the cleaner. These instructions include warnings for children and those with pets and allergies.
3. Measure out the cleaning solution and water and mix in the machines removed reservoir tank. Usually one cup of cleaner is used with hot water. Reattach the tank to the machine by first positioning the bottom of the tank and then tilting it till it fixes and locks in place.
4. Switch on the power switch and activate the handle usually found on the bottom of the unit. Then press the button on the top of the machine which hoses the hot cleaning solution to the surface.
5. Release the cleaning level dispenser and push the machine so that it slowly extracts as much dirt as possible. You may get better results by pulling  towards you as it picks up more dirty water and solution from the carpet. Continue till the tank needs to be emptied.
6. Repeat this till the desired area is cleaned. If the tank runs out of cleaning solution, mix another tank.
7. When full, release the tank to empty the water. Once done cleaning, rinse the tank and filter in hot pipe water.
8. Dry the carpet cleaner before carefully storing it for its next usage.