With a weight of 9.2 pounds, this Bissell model is a lightweight portable carpet cleaner that is easy to carry around for spot cleaning.
The Bissell SpotClean Anywhere has a strain trapper to get rid of stinky and messy stains, and stains from pets, which makes is popular with pet owners. Basically it is a budget friendly and light option if you are looking for a spot cleaner that also can handle messy stains.
>>> See Price and Reviews on Amazon.com! <<<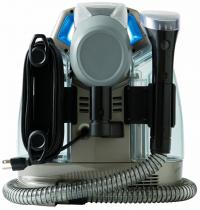 Features:
It has a skinny design that allows it to fit into most storage spaces. This makes it easy to store in the office or in a small apartment.
It has two separate water tanks that can be removed, filled and emptied when needed. One tank has clean water, and the other holds the messy contaminated water.
It has a stain trapper tool that can be used to get rid of extra stubborn stains; it alsoo stops the flow of really messy stains from ever entering the machine. The stain is trapped in a compartment.
The Bissell SpotClean Anywhere has a crevice tool that is designed to get rid of stains out of little spaces that are hard to reach.  This really comes in handy when the kids spill milk on the sofa and it seeps down into the undersides of the cushions.
The tanks are marked with fill lines so you know where to put both the cleaning solution and water before beginning any spot cleaning project.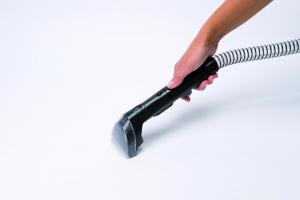 How Does it Compare to Other Portable Cleaners?
We have reviewed two other portable carpet cleaners in the same price class as this cleaner,  The Bissell SpotBot Pet Handsfree Spot and Stain Cleaner with Deep Reach Technology (33N8A) and Bissell SpotClean Professional Portable Carpet Cleaner. How do they compare?
The Bissell SpotClean Professional is priced comparatively. It does not have heatwave technology, like SpotClean Anywhere. However, customers say that the water still remains warm during cleaning  So, this difference does not make the SpotClean Pro any less attractive. However, the Bissell SpotClean Pro weighs more than the SpotClean Anywhere, which means that it will be harder to transport.
The Bissell SpotBot Pet is also comparatively priced. However, when it comes to storage, it is harder to store because of its size and its hose construction and base. It tends to get tangled.
The SpotBot is a cleaning robot, but has gotten some criticism about using a lof of shampoo when it is on automatic.  This can become a waste of money over time.
Another difference between the SpotBot and the SpotClean Anywhere is that the SpotBot has antimicrobial protection. This helps to kill bacteria that cause bad smells and mold.
The Anywhere is the lightest of the three, and with its capability for handling tough stains, it is a good option for people who need affordable and easy spot cleaning.
See this article for a deeper comparison of the best portable carpet cleaners.
>>> See Ratings, Reviews and Price on Amazon <<<
Pros and Cons
The suction is does not seem to be as good as  some of the other Bissell portable carpet cleaners.  Secondly, you cannot clean for a long period of time without having to change or refill the water. While these might be valid complaints, remember what this particular carpet cleaner is designed to do. It is a spot cleaner, which means that it is not designed to clean a large area or run for a long period of time.  Spot cleaning is the goal!
The Bissell SpotClean Anywhere is an ideal budget choice for the person who wants a lightweight, budget friendly carpet cleaner that is designed to perform spot cleaning on carpet, upholstery or stairs.
Design
Ease of Use
Efficiency
Accessories
Help & Support
Our Overall Rating

Average
Review Summary: Bissell SpotClean is a great option if you need a budget friendly cleaner that is easy to handle. It is lightweight, and can handle messier stains with its extra tools to get rid of pet stains and smells.

>>> See Ratings, Reviews and Price on Amazon <<<
Want to look at another carpet cleaner?
Have you tried Bissell 97491 SpotClean Anywhere Portable Carpet Cleaner? Please give us your thoughts about it in the comments! It will help others :).