Pets can make plenty of smelly messes on carpets. Unfortunately, these pet stains are hard to remove, and there are many different tips floating around about how to get pet stains out of carpet.
Pet stains can actually be removed with both commercial and natural cleaning solutions. Many of the ingredients for these solutions can be found on your kitchen shelves or in the pantry. It's possible to use items as simple as vinegar, liquid dish detergent and baking soda. They do wonders to clean feces, urine, mud and blood.
Homemade Cleaning Solutions for Removing Pet Stains
The following are two common and effective natural cleaning solutions that are great for removing pet stains and odors:
1. Vinegar and Baking Soda– Combine one cup of white distilled vinegar, two tablespoons of baking soda and one cup of warm water. Make sure that the mixture is well blended before applying it to the stain. Vinegar is well known for its cleaning properties, and baking soda is good for getting rid of odors.
Spray or pour the mixture on the stain
Allow it to sit for five to ten minutes
Use a towel to rub the stain until it is gone
2. Hydrogen Peroxide and Baking Soda– Hydrogen peroxide does a great job of getting rid of urine and other pet stains. When it is mixed with baking soda, it cleans and removes harsh odors too. For this cleaning solution you will need one cup of baking soda, one teaspoon of dish washing detergent and a half a cup of hydrogen peroxide.
Sprinkle the baking soda over the stain once you have removed as much of the stain as possible
Pour the hydrogen peroxide and dish detergent mixture over the stain
Allow it to sit for about ten to fifteen minutes
Rub forcefully with a towel
To remove baking soda residue, vacuum the area thoroughly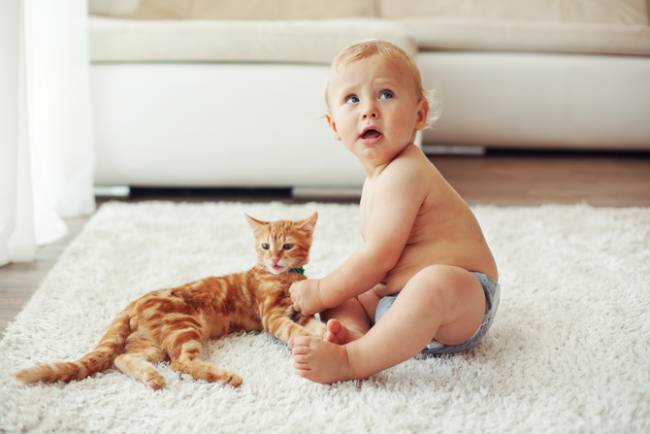 Commercial Pet Cleaning Solutions
In addition to natural pet stain removers there are also popular commercial products. These include brand names such as Nature's Miracle, Zep, Top Paw and Great Choice. The manufacturers of carpet cleaning machines such as Bissell also have their own specially formulated cleaners to use with their carpet cleaning machines. They often contain ingredients such as infused oxygen and enzymes, and they have nice scents such as citrus orange and lemon.
But these cleaners don't just cover up odors. Many of them are specially formulated to remove pet stains and their odors. They can remove different types of stains such as grease, dirt, vomit, urine, blood and feces.
Carpet Cleaning Machines and Pet Stains
When it comes to commercial cleaning products, they work best with carpet cleaning machines. These machines are sometimes designed specifically for cleaning pet stains. For instance, they may have features such as hair basket filters that separate hair and fibers from the rest of the debris that is picked up.
This stops pet hair from getting into the rest of the deep cleaning machine. Remove the basket and dump out the pet hair so that it doesn't clog up your carpet cleaning machine or vacuum. Have a look at this detailed guide to help you find the best carpet cleaner for pets. It goes into detail about the different pet functions available on leading pet carpet cleaners.
All in all, these cleaning solutions and machines are designed for the convenience of pet owners.  Not only are they pet friendly, but they also clean and deodorize your home and make it fresh again.