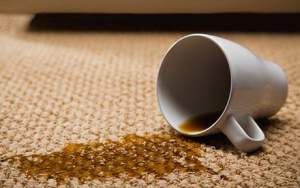 Even if you are the most cautious carpet owner, there is still some risk of getting spills and stains on the fabric. Food, drinks, ink and pet stains can all ruin the impeccable appearance of your rugs. Fortunately, you can choose among a range of cleaning options that will all deliver great results.
1. Identify the Type of Stain
The first step of learning how to remove carpet stains involves identifying the type of stain itself.
Water-soluble stains include the ones from food, drinks, food dyes, urine and latex paint.
Fat stains are obviously the ones produces by any kind of oil.
There is also a category of special water-soluble stains that requires more serious interventions. Such stains include blood, chocolate and wine.
Use our ultimate stain guide to find the best cleaning solution for your specific stain.
2. Choose a Cleaning Product that is Right for Your Carpet
Carpet cleaning solutions are your best pick for the removal of nearly all kinds of stains. The majority of the stains mentioned can be removed with a universal cleaner. You simply need to choose the type of cleaning product that is right for your carpet variety – synthetic or natural.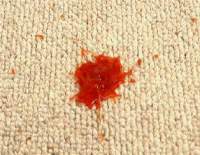 3. Look for DIY Carpet Cleaning Solution Recipes
Apart from using the store-bought carpet cleaners, you can try making a natural solution. A mix of white vinegar, baking soda and water is great for the extraction of water-soluble stains. Lemon juice has the power to make dark spots lighter.
Keep in mind that these natural solutions are good for stains that are still fresh, preferably wet. Getting rid of old, stubborn or oil-based stains in a natural way is going to be a really challenging task.
Here you have more tips on how to make your own cleaning solution.
4. Spray Solution on Stain
Once you choose the right kind of cleaner, you will need to follow a basic procedure. Pour some of it on the stained carpet area. The amount of cleaner should be sufficient to penetrate the fiber. Let it act for at least 10 minutes and absorb the liquid with paper towels. Refrain from rubbing because you will be getting the stain deep into the fabric. Rinse with water and allow the spot to dry completely. You can place a towel on top of the cleaned spot and press it on the carpet with something heavy. This way, you will be speeding up the stain extraction and the carpet drying process.
5. Repeat if Necessary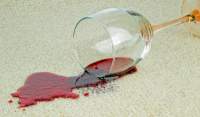 Once the spot has dried fully, you will see whether the stain is gone. Smell the carpet, as well, especially if you are dealing with urine stains. If you see some residue left, you will have to repeat the procedure one more time. Using a good cleaner will make two procedures sufficient for effective stain removal.
If you have several stains on your carpet, or if you often get stains on your carpet (you have kids or pets…)  the best way to get rid of them will be by using a carpet cleaner or shampooer. The machine will deep clean the carpet and remove the stains.
Dealing with carpet stains is all about picking the right cleaning liquid and acting fast. A fresh spill, even if it is from blood or wine, will be relatively easy to get out of the carpet. Make sure you have a high quality cleaner at home and use that for emergency situations.
There are also cleaners that can handle extremely tough stains. While you can rent, nowadays it might be cheaper to buy in the long run, and the carpet cleaners available are very effective.
Helping Videos
For those of you that do not have a cleaner available,  or if it is not in your budget, this video might also be of help:
You will need:
An iron
A blow dryer
A towel
Dish washing liquid
This is a great way to remove smaller stains, but if you often get stains or if you have large stains it is not a very effective solution, and you will need tougher tools like carpet shampooers.