Isn't it infuriating you when you clean your home, but it still doesn't smell clean?  You've vacuumed the carpet, cleaned the kitchen surfaces, mopped the floors, wiped down the walls and dumped out the trashcan, but your home still smells foul.  This can be very frustrating, especially if you have spent the better part of the day doing housework.
This might not sound like a huge problem for some people. But, usually when something smells bad, there is a good reason for it. However, after doing backtracking, you have determined that the bad smell is coming from your carpet.  The carpet is probably old and dirty. Or, maybe the smells are due to pet stains.  However, it really does not matter how the carpet got that way.  The bottom line is that you have to eliminate the smell.
Besides, if you and your family can smell this foul odor, most likely your friends and family can smell it too. Quite naturally, the average guest is not going to bring it to your attention, but you know that the smell still exists. When entertaining guests, you don't want bad carpet smells to ruin the festivities.  Even worst, you don't want to be known as the friend, relative or co-worker with the smelly home.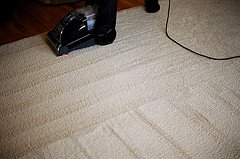 In addition, depending on what caused the smell, it might be something that is harmful to your family.  It could possibly lead to health related problems such as skin irritations, watery eyes or headaches  if there is mold or mildew in the carpet. These are all reasons for why you must not only eliminate the smell, but also its source.
What can you do about the odor?
The good thing is that there are ways to eliminate this horrible carpet odor. The following are a few of your options:
Use natural home cleaning products.  Your kitchen shelves have natural ingredients that can be used to eliminate carpet odor. In addition, they are usually very inexpensive to use. Use a mix of  baking soda and vinegar or lemon juice. They are known to be very effective for getting rid of carpet odor.  This method is even easier if you know where the specific stains or odors are located. Test the solution on a small area of you carpet first to make sure it does not stain the carpet.
Use commercial cleaning products. Many of these are great options if you are budget conscious and want a way to solve the problem on your own.  They are designed for and safe enough for residential use. Not only can these carpet cleaning products get rid of stains, but they are also ideal for eliminating bad carpet smells.
Use a Carpet Cleaner. Also known as a Carpet shampooer, it will deep clean the carpets fibers, and remove the source of the smell  A great way to not only remove the odor but also to keep the carpet looking great and maintain it.
Get rid of the carpet.  Now, this is the most obvious solution. If it is too damaged, and you cannot salvage it with these methods, consider getting rid of it.
Get the carpet professionally cleaned. Many carpet cleans have chemicals that can get rid of smelly stains. Many of them are also environmentally safe. However, this is expensive and it may be cheaper to buy your own carpet cleaning machine if you plan on using it more than once.
If you want to get the odor out of the carpet, there are a few good options to choose from. Some involve getting professional help, and others you can do on your own. However, it is good to know that you don't have to live with offensive carpet smells forever